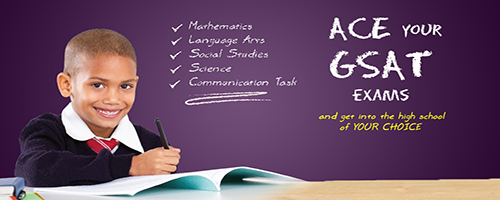 Overview
The GSAT course is designed for students who wish to sit the GSAT exams in March. These courses are for students in grade 6. The courses are syllabus completion courses which focuses on completing the syllabus for all 5 subject components of the GSAT exams. Our programmes are based on ExamPass, our two-step system to exam success.
GSAT DRILLS:
The GSAT Drills is an intense course of past paper workouts and tackling of difficult topics to help students in passing the exams and getting the best grades they can get. You may register for this course as a package with the other GSAT courses or you may register for it as a single course. This course starts in January 2018 and ends in March 2018.
COURSES START IN SEPTEMBER 2017 AND END IN MARCH OF THE NEXT YEAR.
SUBJECTS OFFERED
Mathematics
Language Arts
Social Studies
Science
Communication Tasks
Teaching Sessions
There will be 22 Teaching Sessions at 4 hours per session for GSAT all subjects.
Exam Preparation: GSAT Drills
Students enrolled in a Complete Course may attend GSAT Drills, an intense 10-week Exam Preparation course or prepare for exams by themselves. GSAT Drill's prices are significantly discounted for students who are already enrolled in a Syllabus Completion Course. These are drills done under examination conditions with GSAT Past Papers. For each session, exams are completed by the students and marked.  In the last GSAT Drills are for persons who have completed one of our GSAT complete courses and want additional help in preparing for the March 2018 Exams.
Special Discounted Price for students already enrolled in a complete course – 50% Off and pay no Material fee.
GSAT Drills All Subjects (starting January 7, 2018)
Sundays 12:00pm-5:00pm.
Tuition Fee
GSAT All Subjects- $30,000 or $6,000 per month for 5 months.
Registration and ID Fee – $1000
Course Material Fee – $3500 which includes:
Prices for students NOT already enrolled in a complete course
GSAT Drills

All subjects $12,000 per course