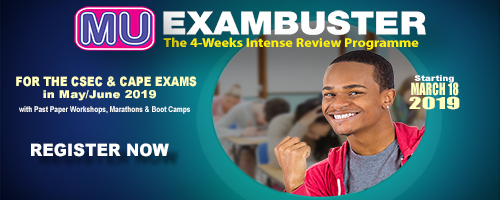 The EXAMBUSTER Courses are the intense revision series of past paper review courses, workshops, marathons and bootcamps for the best preparation for exams. The EXAMBUSTER revision series are for persons who have done classes in a CSEC or CAPE course and want additional help in preparing for the May/June exams.
The EXAMBUSTER Intense Revision Series Courses include:
PAST PAPER TOPIC REVIEWS – This course consists of eight 3-hour workshop sessions, each session reviewing a topic block or complete past paper with examiner's feedback.
PAST PAPER MARATHONS and HALF MARATHONS – These are 8-hours and 4-hours sessions to conquer troublesome topics and for Exam Drills and Skills.
BOOT CAMPS – These are one-week last chance crash courses for review of the course and sitting and reviewing a complete Mock Exam.
Revision Courses focus on doing what is necessary to excel in the exam. The entire syllabus may not be completed in these courses.
This course starts the week of Monday, March 18, 2019 to Sunday, March 24, 2019.
Subjects Offered:
CSEC SUBJECTS
CAPE SUBJECTS
Additional Mathematics
Accounting Unit 1 & Unit 2
Biology
Economics Unit 1 & Unit 2
Caribbean History
Pure Mathematics Unit 1 & Unit 2
Chemistry
Biology Unit 1 & Unit 2
Economics
Entrepreneurship Unit 1
English A
Sociology Unit 1 & Unit 2
English B
Caribbean Studies
EDPM
Information Technology Unit 1 & Unit 2
French
Tourism Unit 1
Geography
Chemistry Unit 1 & Unit 2
Human & Social Biology
Communication Studies
Information Technology
Law Unit 1 & Unit 2
Mathematics
Computer Science Unit 1 & Unit 2
Office Administration
Management of Business Unit 1 & Unit 2
Physics
Physics Unit 1 & Unit 2
Principles of Accounts
Digital Media Unit 1
Principles of Business
Integrated Mathematics Unit 1
Social Studies
Spanish
Technical Drawing
Students already enrolled at Maths Unlimited Supercourses may add the EXAMBUSTER course to their courses for a Special Discounted Price. – Talk to an enrolment advisor about discounts you may get for your course.
The following Prices are for students NOT already enrolled at Maths Unlimited Supercourses, if you are a current student please consult an enrolment advisor about registering for these courses and the costs applicable to you.
Registration and ID fee is $1000
Course Material fee is $4000
Study Notes
Past Papers Sets A, B and C
Tuition
Past Paper Review Course – $12,000
Past Paper Marathons – $3,500
Past Paper Half-Marathons – $2,000
Past Paper Boot Camps – $7,500