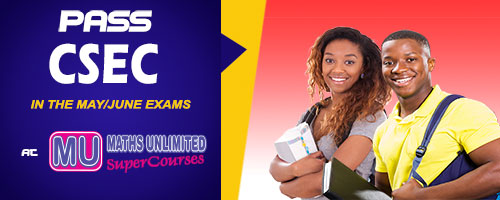 Classes begin the week of Monday, January 08, 2018 to Sunday, January 14, 2018 ( 2017/2018 School Week 17)
Our CSEC Courses and Programmes are based on ExamPASS, our 2 step system to Exam Success.
Step 1: Syllabus Completion
Step 2: Exam Preparation
Exam Preparation courses focus on doing what is necessary to excel in the exam. The entire syllabus might not be completed in these courses
Concise Courses
These are Exam Preparation Courses for persons who have received grades 3 or 4 on a recent exam and would like a better grade.
Concise Courses have:
Teaching Sessions which run for 15 school weeks at 3 hours per week.
Some Concise courses have practice sessions for 3 hours per week for 15 weeks
Some Concise courses have marathon sessions for 6 hours per week for 15 weeks
Registration and ID fee is $1000
Course Material fee is $4500
Study Notes
Past Papers Sets A, B and C
Tuition Fee
CSEC Mathematics – $15,000 or $5,000 per month for 3 months
CSEC Mathematics – $12,000 or $4,000 per month for 3 months