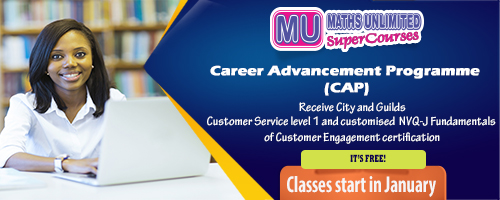 Online and in-person classes begin the week of Monday, January 28, 2019 to Sunday, February 3, 2019 and ends the week of Monday, February 18, 2019 to Sunday, February 24, 2019.
The Career Advancement Programme (CAP) is a government initiative that is fulfilled by the Ministry of Education, Youth and Information. This programme provides formal certification for individuals who has not matriculated to post-secondary education or work. Individuals who hold formal certification including degrees are also welcome to join the programme.
After the programme, students will be qualified to apply for associate and bachelor degrees in BPO and also receive jobs in the BPO industry. Persons who complete the registration form are required to go through a screening or interview before being admitted to the programme. After completing the course, students will receive qualification in City and Guilds Customer Service level 1 and customised NVQ-J Fundamentals of Customer Service Engagement level 2.
Requirements:
Ages 16-24 years

One (1) subject (CSEC, City and Guilds, GCE or pass HEART Maths and English)
The programme is FREE.
Class times are Tuesdays to Thursdays at 9 am to 3 pm.